Promoting your event
Whether you want to boost delegate numbers for your Auckland event, present a proposal to your colleagues, or bid to host an international conference, inspiring promotional materials could make all the difference. Our dedicated Business Event Services team are here to support you in providing the tools you need to ensure your experience is a positive one - from the moment you decide to come to Auckland right up until your business event comes to life.
We can help you with:
inspiring itinerary ideas 
guides and maps
access to our brand library containing Auckland imagery and footage
Auckland business events promotional video
collateral to assist you in marketing your event.
delegate marketing materials
Curating experiences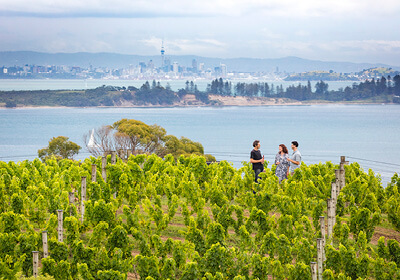 There's so much to see and do in Auckland beyond the boardroom, and with our local knowledge, it's easy to choose the right activities for your group. Our combination of city style and natural beauty means you can offer your delegates unforgettable experiences from wine tastings and gourmet food tours to sailing and dolphin spotting. We can help you with:
unique team building event ideas
inspiring incentive travel and reward programmes
itinerary ideas
meaningful CSR and give-back opportunities
pre- and post-event touring ideas
connection to organisations to arrange educational tours, workplace visits or field trips
providing ideas, planning and booking Auckland experiences for friends and family with our Accompanying Person Programme.
Connecting
Great business events only come together when the right people come together. We help you stay connected with people in your industry, from fellow event planners to service providers – as well as the ACB team.
You can stay connected by:
joining our networking events and functions
signing up for our enewsletter to keep up to date with new event services, products and offers
receiving updates from us on LinkedIn
talking to us at tradeshows.
What people say about working with us
Dr Hossein Sarrafzadeh
Centre of Computational Intelligence for Cyber Security
Department of Computing Faculty of Creative Industries and Business
Unitec Institute of Technology, Auckland
The Auckland Convention Bureau international bidding team is simply fantastic. In fact, they made the impossible possible. The level of agility they showed in preparing a very effective bid document was unprecedented. The document was of the highest quality too, which, in my view, had won over the steering committee before I even presented the bid. I cannot recommend them highly enough.
Number of Images
Pauline Prince
Events and Sponsorship Manager, GS1 New Zealand (previously EAN NZ)
"Whether it is a small exclusive function, large-scale two-day conference, teambuilding activities or product launch, they have always delivered to my brief."
 
Selwyn Haworth
Auckland JP Association, Chairman of Committee
"ACB allocated us an account manager who provided information, assisted us in viewing selected options and explained in layman's terms the difference between the quotations we received."
 
Chris Keeping
New Zealand Dairy Industry Awards
"When putting together an event in an unfamiliar city, access to the contacts provided by Auckland Convention Bureau has been a real bonus."