You will have no doubt come across Viva La Dirt League's hilarious sketch videos on your favourite social media platform. The Auckland-based trio of founders, Adam King, Alan Morrison and Rowan Bettjeman, have been posting their comedic skits on YouTube since 2011 but it's only in recent years that their favourite hobby has become a fully-fledged business enabled by their large and enthusiastic following.
To date, Viva La Dirt League has notched up a staggering 2.2 billion views and counting from its catalogue of 1400+ online videos. The group's following is not just highly engaged but also generous with their support which has enabled the trio to crowdfund an impressive $4 million (NZD) via Kickstarter to buy their own studio. After working out of their homes and makeshift spaces for over a decade, it made sense for the growing business and its employees to find a studio to call their own.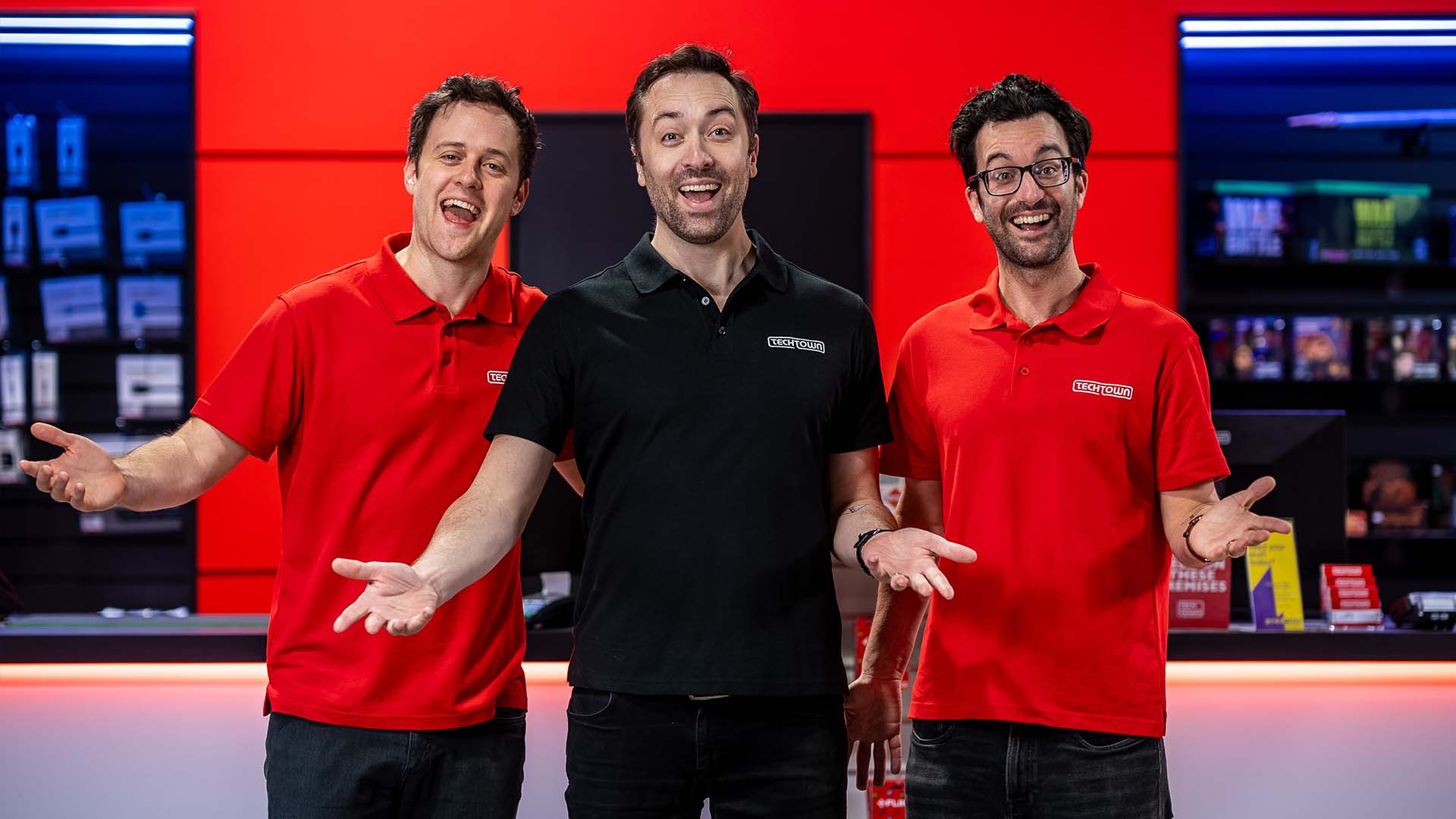 Viva La Dirt League purchased a suitable building in the creative precinct of Henderson in 2022, before embarking on extensive renovations to bring it up to spec as a modern film studio complete with a large green screen setup and full soundproofing. The studio is due to open in August 2023 and the founders couldn't be more excited with the result.
"It was a challenge. It really was," says Adam. "Hardly any New Zealanders have built a film studio before, so we had to find the right expertise to design and make it. We initially thought we'd get enough money for a co-working space with a garage that we could use as a 'studio', we didn't anticipate this grand thing that we eventually did get which is awesome and has completely exceeded our expectations."
 
We didn't anticipate this grand thing that...has completely exceeded our expectations.
The new studio is already in use with Viva La Dirt League filming skits for its popular Bored series, based in a new fictional tech store called TechTown. Its talented art department created the store from scratch with over 20 fake brands and signage for computers, video games and more. With hundreds of detailed designs to create the look and feel of a real store adding to the increasing production values Viva La Dirt League has been able to deliver in recent videos.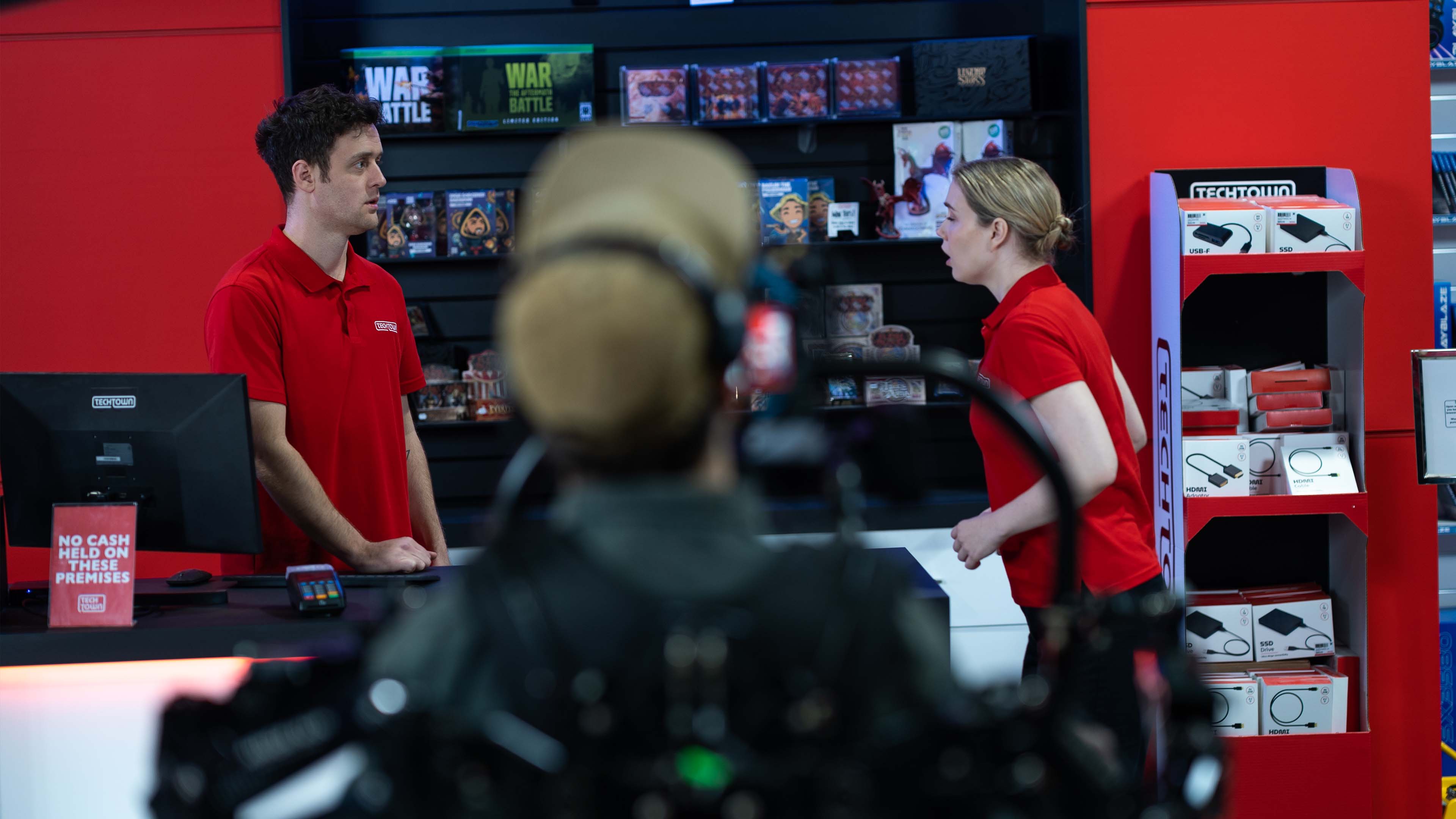 Having a fully pre-lit soundstage at its disposal is a game-changer for the business and, now that it's in a position to, Viva La Dirt League is keen to support others. First up, is offering its green screen space for hire so other filmmakers can make use of the conveniently located studio for TVCs, shorts and feature films. Following this, Viva La Dirt League would like to support other content creators by offering its production services to help others get their ideas made by a professional team.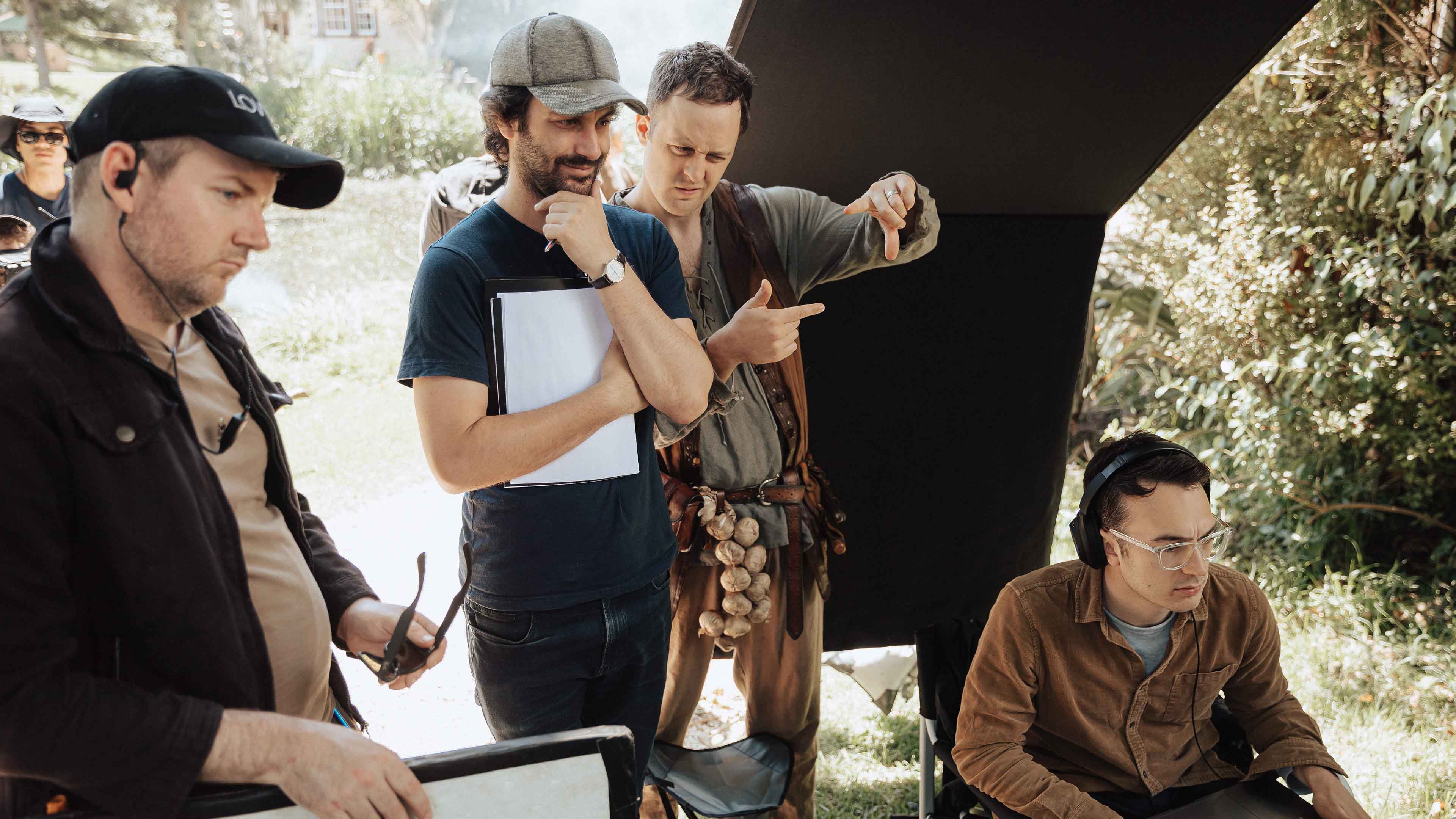 Having expanded from a team of three of them doing every single job to now a full team around them sharing the load, means that Adam, Alan and Rowan are able to focus their energy on the creative side they love, while making the business decisions that will ensure Viva La Dirt League's longevity and continued expansion.
"There's way more important meetings, sitting down at a table, drinking several coffees in a row," laughs Alan. "But it's very exciting to see something coming from such humble beginnings grow into something that has genuinely exceeded your wildest dreams. If we could have shown us 10 years ago where the company has got to now, I don't think we'd quite believe it."
They've certainly come a long way but the team still enjoy filming on location around Auckland and have shot at the likes of Howick Historical Village, Jonkers Farm in Waitakere and Bethells Beach for many years, which Screen Auckland has helped facilitate. Our region's scenic locations provide the perfect backdrop for their entertaining skits which now feature a range of local talent.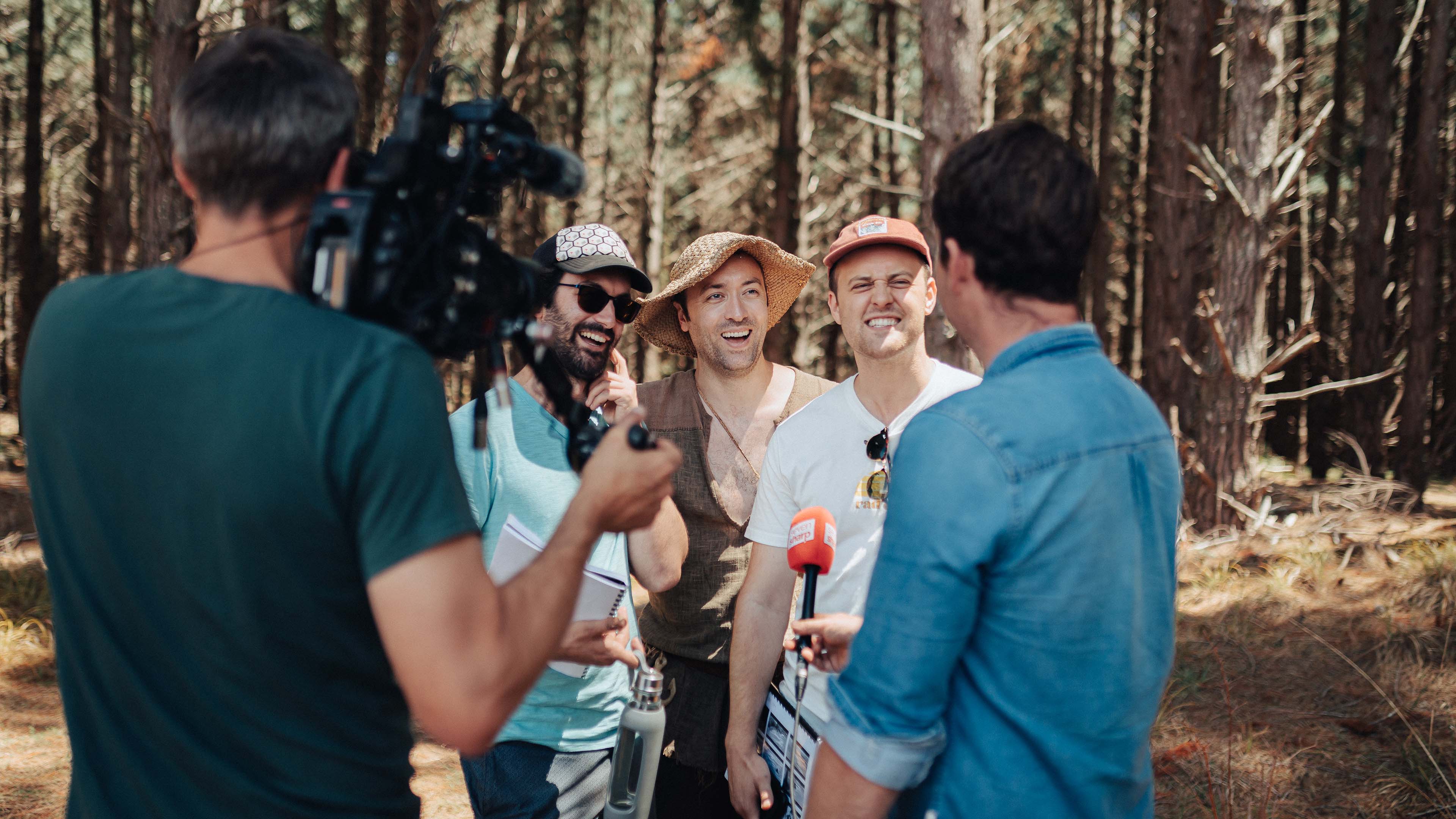 "In the early days it was just the three of us and the odd friend," adds Rowan. "We would literally go, 'Hey man, do you want to just be in this skit for free?' That was the casting process. But now it's becoming a lot more curated. The default is always the three of us and the extended cast, like Ellie, Britt, Ben, Hamish and Byron. But it is nice now that we are getting larger, especially with this filming we're doing right now, we can go out to New Zealand agents and cast experienced actors and comedians who are awesome to be in our videos as well."
With Viva La Dirt League amassing between 4 million and 10 million views of its content per day across Facebook, YouTube, Instagram and TikTok, its future is looking bright, and the team attribute part of their success to their willingness to make mistakes and just keep putting content out there. Their advice for anyone wanting to create their own content is to get out there and start doing it.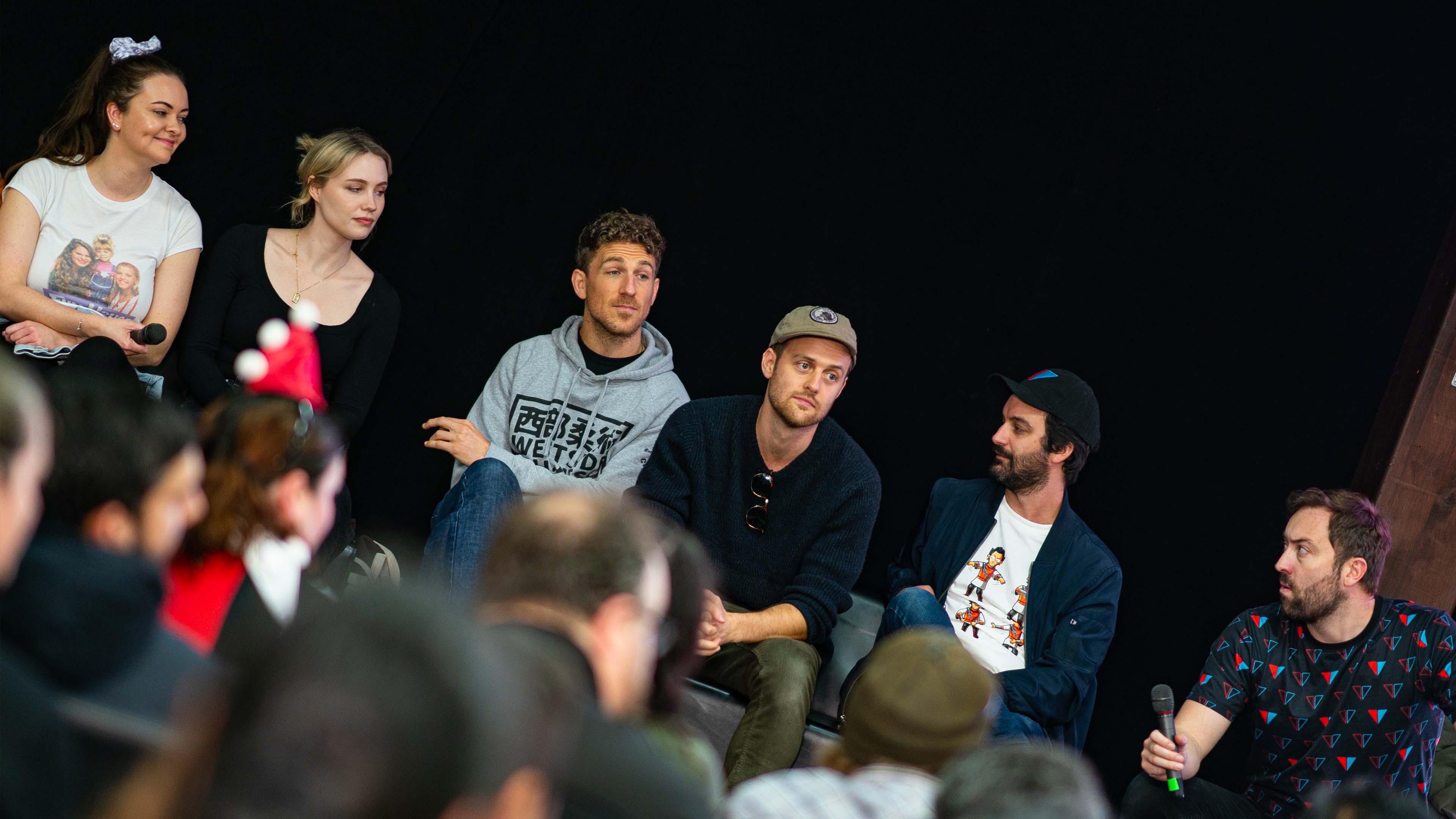 "I feel like there is a lot of trepidation in the New Zealand film industry as a young creative," says Adam. "People are always saying, 'I'm going to make that short film one day,' or 'I'm going to write that feature,' and it's just like, get out there and do it! Just go out there and make something. And if it doesn't work that's ok, you've learned a lesson and move on, and then try again and make the next thing. Just start because you're going to fail initially, and you need to start doing that so then you can figure things out."
Made In Auckland
Viva La Dirt League has amassed 5.3 million+ YouTube subscribers and 2.2 billion+ YouTube views over its 1400+ videos on YouTube.
$4 million (NZD) was raised in 2022 to buy and renovate its Henderson studio, which features:
Auckland's largest permanent Green Screen (10.7 x 11.6 x 5.6 high double cyced corner, with 6.5m x 7.6m floor and a 2.5m floor run)
Load-rated, pre-set full lighting rig controlled via Aputure Sidus Link
Stunt rigging, 3 phase power, full vehicle access
Floor to ceiling 360 wrap around black drapes
Dedicated green room, wardrobe and makeup facilities